Som lovet kommer en smakebit av masteroppgaven min. Jeg vil vente med å publisere noe mer fordi universitetet råder meg til å holde det hemmelig frem til evt offisiell internasjonal publisering i en forskningsartikkelsamling. I siste avsnitt er sammendraget, på (litt gebrokken) norsk, fra masteroppgaven min (som er på engelsk).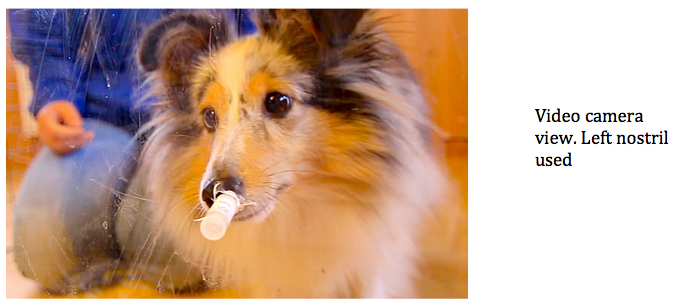 Først litt bakgrunnsinfo for å forstå hva "lateralisering" innebærer (klippet fra min masteroppgave):
Intense emotions, such as aggression, escape behaviour and fear (summarized by Rogers & Andrew, 2002) and response to novel stimuli, or more precisely, the familiarity judgment task, is associated with activity in the right hemisphere of the brain (Royet & Plailly, 2004). It is also reported that there are higher levels of noradrenalin in the right side of the brain, compared to the left side of the brain (Oke et al., 1978) The left hemisphere responds to familiar stimuli and is related to learning of systematic rules (Vallortigara, 2006), and is dominated by dopaminergic activity (Willing, 1995). Brain asymmetry is found in control of both cerebral cognitive functions, emotional states and cerebral regulation of autonomic-physiologic processes (Wittling, 1995). Specialization of the two hemispheres of the brain controls functional systems where one side of the brain is more critically involved in some particular functions, while the other side of the brain has higher importance in other functions. Most processes are controlled as an interaction between the two hemispheres of the brain (Witting, 1995).
Cerebral laterality is found in a wide range of species, dogs included (e.g. Bradshaw & Rogers, 1993; Rogers & Andrew, 2002; Siniscalchi et el., 2008; Vallortigara, 2006). However, few studies on dogs are based on the olfactory sense (Berns et al., 2014; Siniscalchi et el., 2011). It would be interesting to study cerebral laterality in dogs based on the olfactory sense, since the olfactory sense is the primary sense for dogs (Siniscalchi et el., 2011). It is commonly thought that dogs' behaviour is affected by human stress (e.g. when we compete in sports with our dogs and the handlers are nervous). It would therefore be interesting to get information about how dogs are affected by the smell of human stress through an odour sample collected on cotton pads, where only a smell of stress is presented to the dog. Furthermore, if the methodology in this research allows us to infer cerebral laterality, this could lead to a new method to study dogs' emotions and brain activity.
This thesis is a study on how lateralization behaviour among dogs is affected by odours from stressed humans.
Do dogs show difference in lateral asymmetry by differential use of left nostril (left cerebral hemisphere) and right nostril (right cerebral hemisphere) when sniffing at odours from humans in the following stress levels: calm, immediate stressed and after a stressed situation (later stressed)?
How will these different odours (human stress levels) affect duration of sniffing with left and right nostril and laterality of nostril use (left or right) for the first sniff and last sniff each odour presentation?
Can laterality of olfaction be related to sex, age, nose length, distance between nostrils or daily activity/training?
It was hypothesized that odours from more stressed people would produce greater emotional arousal in dogs than those from calm people, resulting in less sniffing and greater right nostril bias when sniffing. It is predicted that odour from more and less stressed human would be aversive for the dog, while odour from calm human would be non-aversive. How stressed the odour giver was (odour givers stress score), is predicted to affect how aversive the odour is. A higher proportion of right sniff is expected for the aversive odours than for the non aversive odours. It is predicted to find a shift from right to left laterality for the non-aversive odours with repeated presentations (trials) and decrease in novelty.

Kan hunder lukte at mennesker er stresset?
Strukturer i høyre hjernehalvdel tenderer til å være mer aktive i respons til ukjente stimuli og intense følelser som frykt, fluktatferd and aggresjon, mens strukturer i venstre hjernehalvdel er mer aktive i respons til kjente stimuli og læring av system og regler. Lateralitetsstudier på hunder har vært basert på visuelle og vokale tester, mens bare et fåtall av studiene har vært basert på hunden primærsans – luktesansen.
Sniffeatferd måles i dette studiet for a utforske lateral asymmetri hos hunder som ble presentert lukter av menneskelig stress. Luktprøvene er hentet fra 8 kvinner ved 3 ulike stressnivåer: når luktgiver var avslappet, når luktgiver var umiddelbart stresset mens hun tok en berg og dalbane, og 15 minutter etter turen med berg og dalbanen. Tjueni hunder utførte 8 testserier der hundene fikk lukte på fire luktprøver i hver testserie: luktprøve uten lukt fra menneske, luktprøve fra kvinne som var avslappet, luktprøve fra umiddelbart stresset kvinne og luktprøve fra kvinne 15 minutter etter hun ble utsatt for en sterk stressor. Hundens bruk av venstre og høyre nesebor ble filmet og senere analysert.
Det var ingen effekt av de fire behandlingsgruppene kontroll, avslappet, umiddelbart stresset eller senere stresset (altså: de ulike luktene hundene fikk lukte på). Derimot ble det funnet effekt av luktprøvegivers stress-score (altså: luktgivers følelse av hvor stresset hun var når hun tok berg og dalbanen), hvilket indikerer at hunder er i stand til å sanse hvor stresset et menneske er ved å lukte på luktprøver fra dette mennesket. Hunder hadde lengre utforskningstid på den første testserien der alle luktprøvene var ukjente. Hanner viste en klar preferanse for å bruke venstre nesebor, mens hunner viste en mindre klar preferanse for venstre nesebor. Lengden på hundens snute påvirket utforskningstiden, der hunder med lenger nese brukte kortere utforskningstid enn hunder med kortere snute. Hunder med lang snute brukte også venstre nesebor mindre enn hunder med kortere snute. Lateralitetseffekter ble også funnet i relasjon til daglig fysisk trening, tidligere erfaring med nesearbeid og hvor lydig hunden var. Dette studiet bidrar til forståelsen av kommunikasjon mellom hunder og mennesker og kan være utgangpunkt for en ny metode som kan brukes for å studere hunders følelser og hjerneaktivitet.
Hvorfor disse effektene finnes, er diskutert i selve masteroppgaven som dere helt sikkert får se iløpet av 2015. Det er nemlig ganske kule forklaringer på hvorfor hunder kan lukte HVOR stresset mennesker er, og hvordan hundens neselengde henger sammen det dette. Jeg har også godt dokumenterte teorier på hvorfor hanner bruker venstre nesebor mer enn det hunner gjør.
.